There is no doubt that ShapeShift is a favourite amongst alt-coin users. The site has received praise left, right and centre. The site is simple to use, and most importantly, fast. ShapeShift is a platform that enables you to exchange an ever growing selection of cryptocoins (40 at present) into other cryptocoins, without the need to create an account or use a password.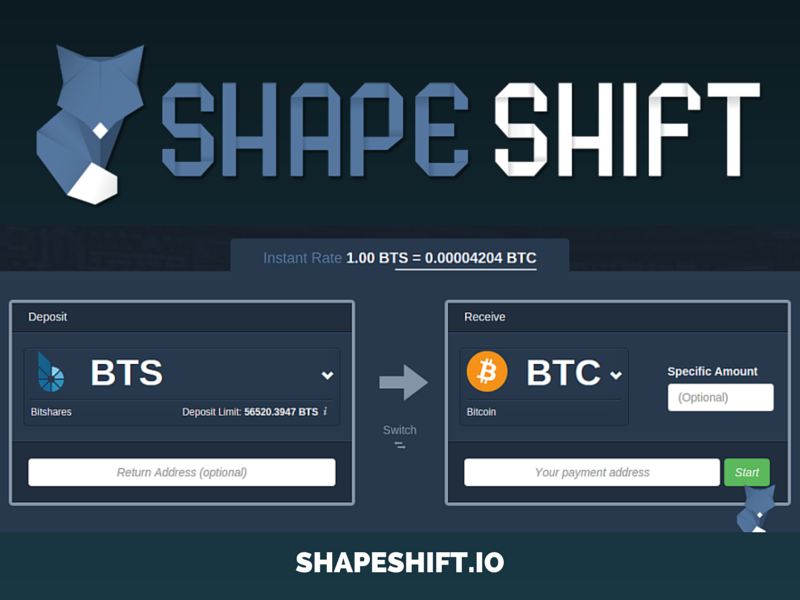 They have also released two innovative tools, the Shifty Button and Lens Browser plugin.
The Shifty Button allows any merchant that currently accepts Bitcoins to also accept other alt-coins. The ShapeShift Lens is a Firefox and Chrome extension plugin that allows anyone with alt-coins to pay a merchant that accepts Bitcoin.
Here's what ShapeShift's says, "If you run a business website that accepts Bitcoin payments or deposits, you can place the Shifty Button HTML code into any page to enable it to accept altcoins automatically. Your users can then deposit leading altcoins like Litecoin, Dogecoin, etc. and they'll be auto-converted into Bitcoin for you. Accept altcoins the easy way with the Shifty Button."
The Lens browser extension, which we also love is described asa tool that allows you to, "Buy anything with your altcoins. Use the Shapeshift Lens to automatically pay any Bitcoin address with the altcoin of your choice."
ShapeShift prides itself on the fact that is quick to use, and that no accounts, no emails and no passwords are needed. The company was founded just under a year ago in August 2014 by Eric Vorhees, a well known and reputable cryptocurrency expert.
They are growing rapidly, having recently raised over 1.8 million USD from the crowdfunding site Bnk To The Future. They are always adding new virtual currencies into their platform.
The Shifty Button and ShapeShift Lens get a big thumbs up from us at CryptoGlue. We support tools that facilitate and simplify a users journey.
You can find out more and download the ShapeShift here:
https://shapeshift.io/