Namecheap
first started
accepting Bitcoin payments
in March 2013, and were the first major registrar to do so. Surprisingly other major registrars, such as GoDaddy, 1and1 and Enom still do not accept Bitcoin.
Two years on and we thought we would evaluate the process.
We support Bitcoin merchants where we can, so we bought our
CryptoGlue.com
domain using Bitcoin from Namecheap.The process was simple & smooth, but took longer than paying by card or PayPal.
Step by step:
First of all you need to search for a desired domain name, and good luck finding one that isn't already taken.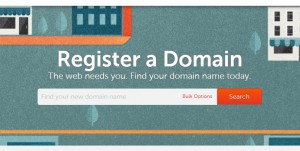 Once you have found an available domain, you can add it your cart: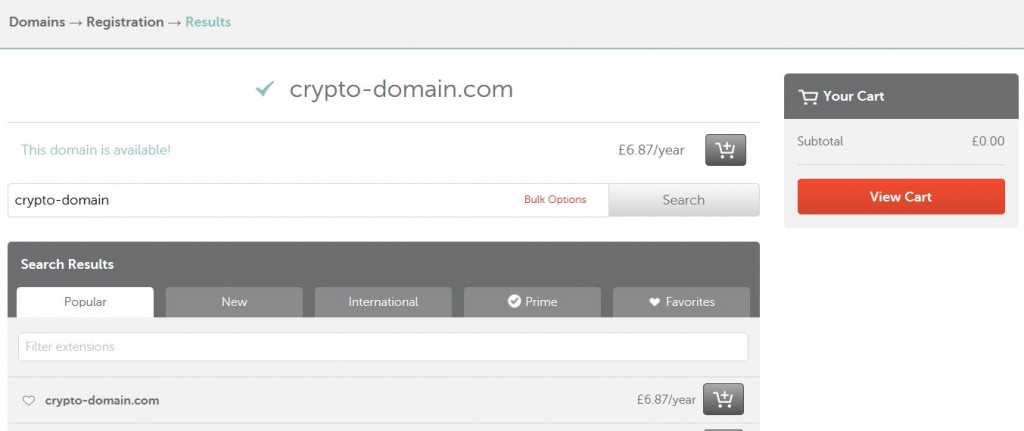 We changed the currency from GBP to USD: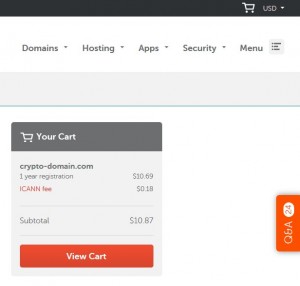 To proceed to the checkout, you click on 'View Cart'.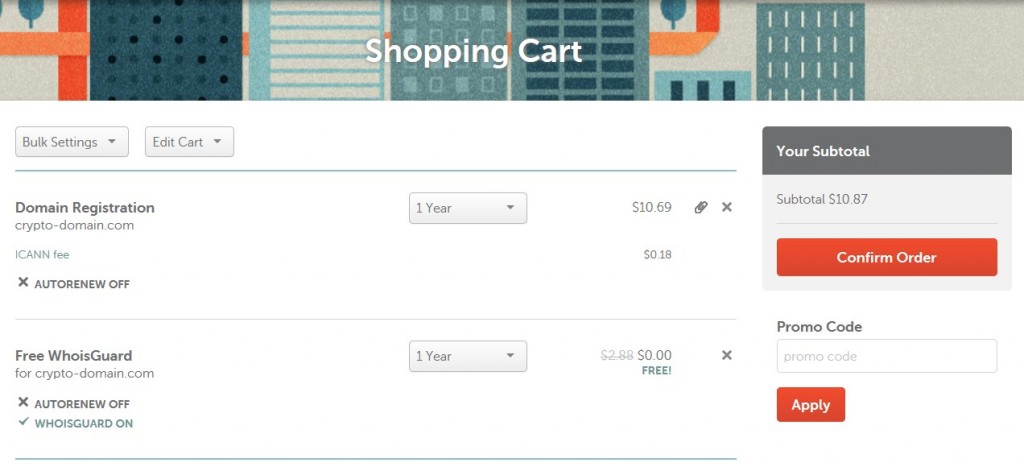 Click on 'Confirm Order' to go through to the payment options page: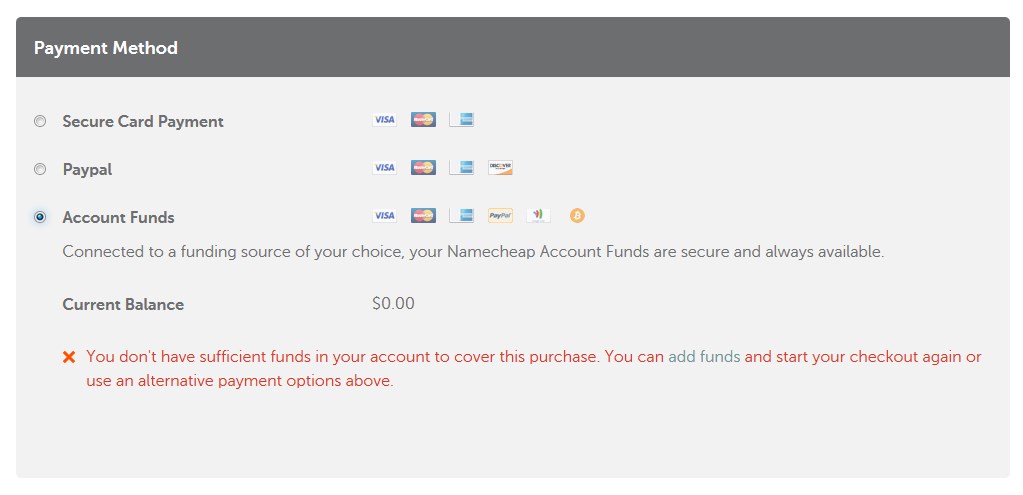 Select "Account Funds", notice the Bitcoin logo. However, your account has a balance of $0.00, so you need to top it up.
Click on the 'add funds' link.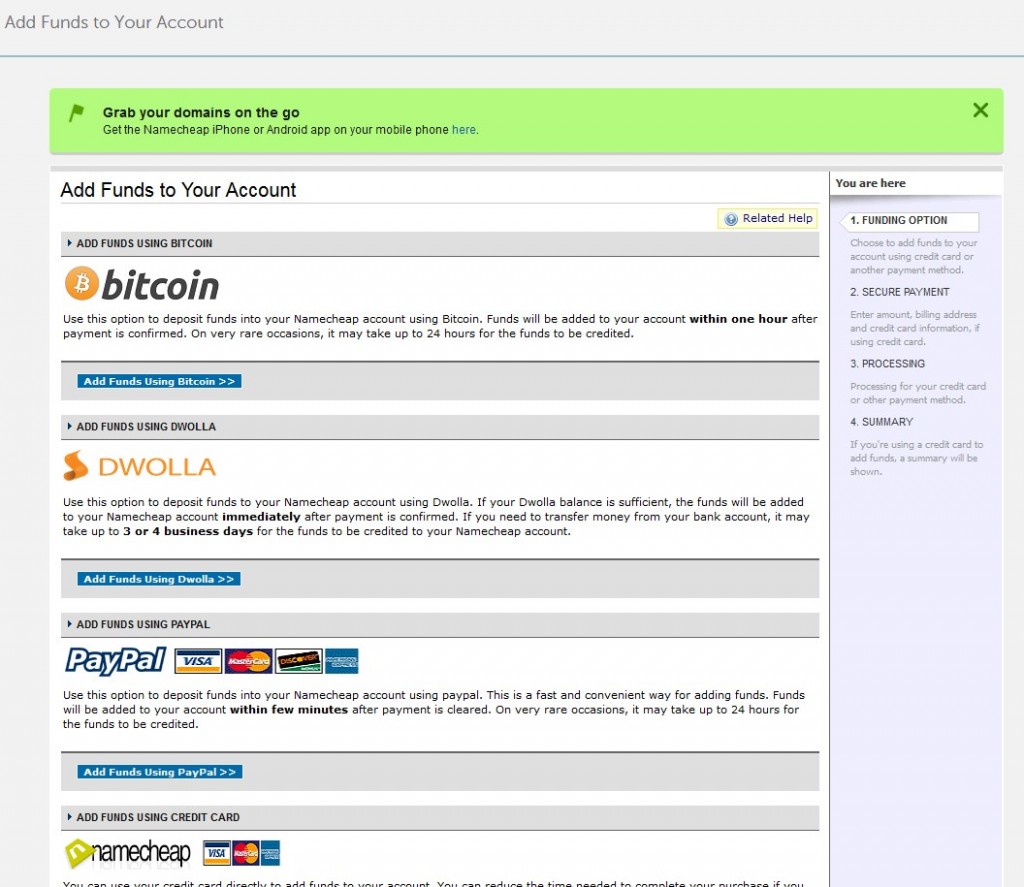 Choose 'Add Funds Using Bitcoins'. Type in how many USD, you want to add to your account. If you want to pay in GBP, you still need to know the amount in USD.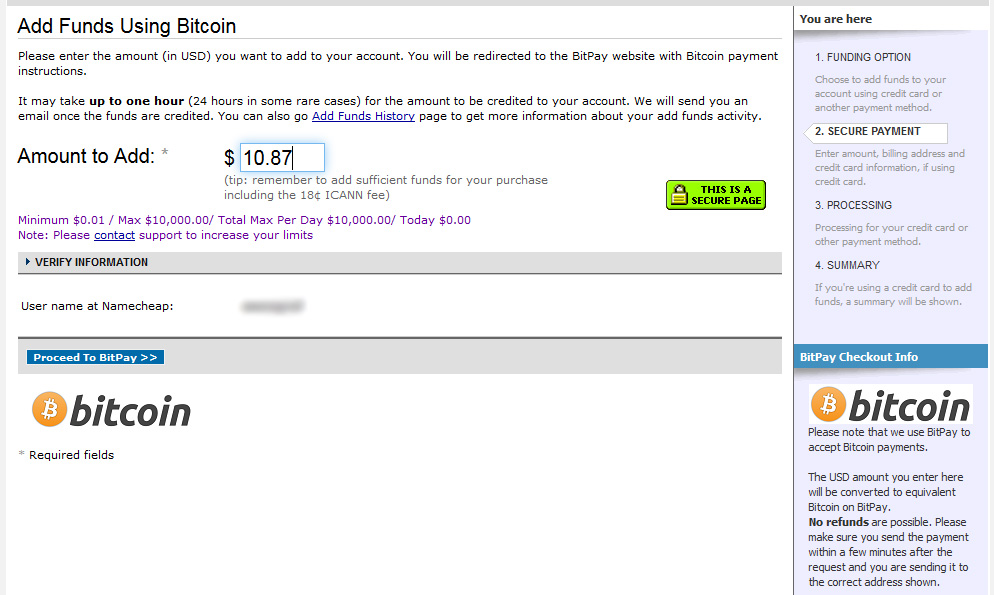 You are then taken to a BitPay screen. You then send the amount of Bitcoins to the address stated.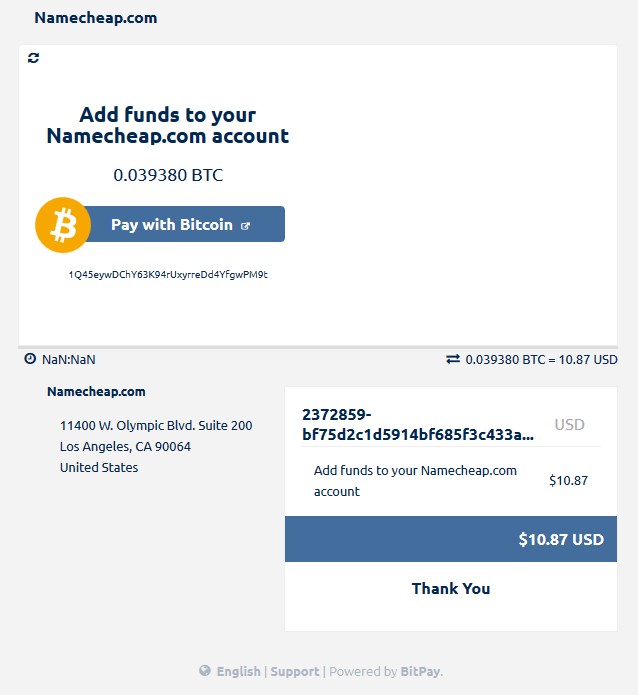 Once, BitPay has seen your transaction broadcast to the network, you will be sent back to Namecheap to complete your purchase using the funds on your account.
You also receive an email along the lines of, "We would like to inform you that your Bitcoin payment for $10.87 has been added into your Namecheap account. You can now use the account balance to purchase or renew products on Namecheap.com."Followed by another email with your order summary once you have completed the purchase.
Don't forget that if you pay with Bitcoins, your domain will not renew automatically.
Summary:
Buy a domain using Bitcoin was smooth and simple. The process takes a bit longer  than using debit/credit card or paypal. There is no price difference between any payment method, we would have liked to see a small discount.
Would we buy a domain from Namecheap again?
Absolutely, we strongly support merchants who listen to customers, innovate and support crypto. Namecheap also supports the Electronic Frontier Foundation, who encourage innovation and freedom. Big thumbs up from CryptoGlue!
Disclaimer: This is an independent review. We are not affiliated with Namecheap.