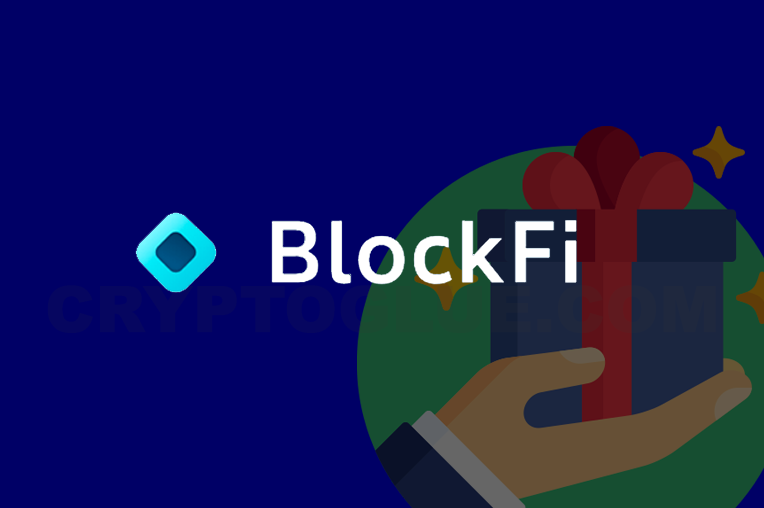 WARNING: BlockFi had a large lending facility with FTX. FTX has since applied for bankruptcy protection in the United States on 11th November 2022. We would not recommend using this platform, as it may also end up applying for bankruptcy protection. All information provided on this page is no longer accurate.
The BlockFi Interest Account is an interest-bearing account, which provides market-leading yields to crypto investors who store their Bitcoin, Ether, Litecoin, Coinbase Dollat (USDC), Paxos and Gemini Dollar (GUSD) at BlockFi.
We will explain how you can get 10 USD bonus on BlockFi by using a referral code at sign up.
You might as well use this code to get an extra 10 USD bonus. You get $10 and we get $10. It's a win-win for both of us. Use our BlockFi referral code:
What is BlockFi?
BlockFi offers financial products designed to help cryptocurrency holders to do more with their digital assets. They currently service clients worldwide, including 48 U.S. states, with interest earning accounts and low cost USD loans backed by crypto.
What is a BlockFi Referral Code?
A BlockFi referral code is a special code that you can use when sign up to BlockFi. You will receive a 10 USD bonus after you deposit 100USD or more worth of crypto, and hold it there for 30 days, but only if you sign up using our BlockFi referral link: https://blockfi.com/?ref=c9dd73b2
How to use the BlockFi Referral Code?
To use the BlockFi referral code to get your $10 bonus, you will need to create a new account, using our special referral link below:
https://blockfi.com/?ref=c9dd73b2
Now click on "Get Started" to open your account.
You will see that once you have clicked on the referral link, the referral code will automatically be applied, as shown below. Now, you just need to complete the rest of the sign up to create your account.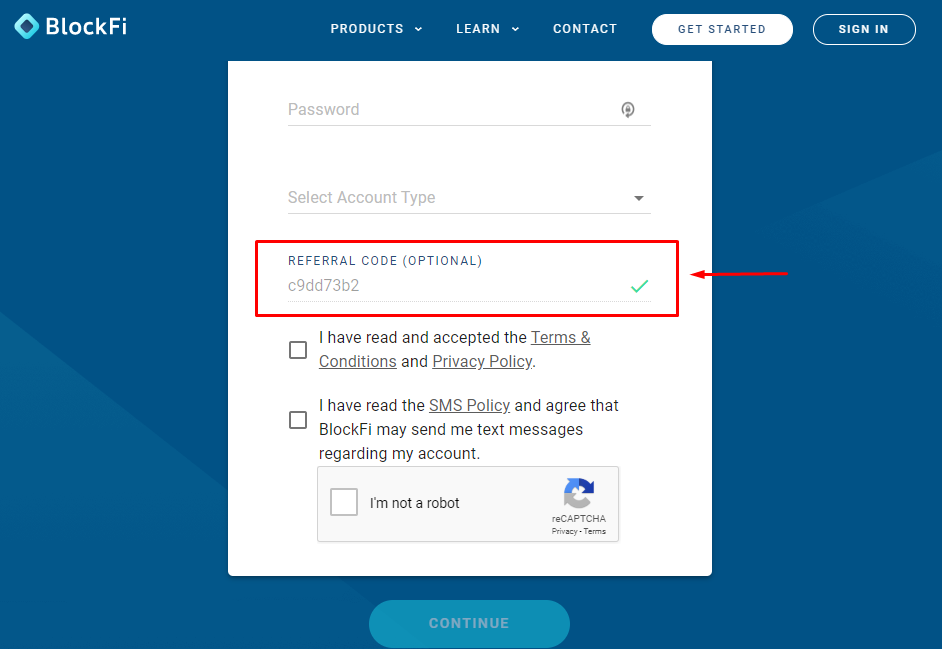 You are now ready to deposit crypto and start earning interest.
Deposit $100 or more worth of crypto to your BlockFi Interest Account, and hold it there for 30 days, you will earn a one time bonus of $10 in BTC.
You will need to hold the qualifying balance for 30 days until the following interest payment day to qualify for the bonus.
BlockFi Referral Code FAQs
Why use BlockFi?
Start earning interest on your crypto today. No lockup periods or minimum amounts. Sign up with our link to get a 10 USD bonus.
Is BlockFi legal?
Yes, BlockFi is legal. But it all depends on your country of residence. BlockFi is legal in most countries, including 48 states of the United States of America.
What are the fees on BlockFi?
BlockFi aggregates liquidity to offer seamless trade execution and pricing. The rates displayed when you place a trade reflect the price you will pay with no additional fees! Additionally, your new crypto asset will automatically start earning interest in your Interest Account the day following the trade.
You get 1 free crypto withdrawal and 1 free stablecoin withdrawal per month. After that there are small withdrawal fees.
Is BlockFi Safe?
They claim to have the highest degree of security available in the blockchain lending ecosystem. Additionally, they operate within regulatory guidelines at the federal and state level in the United States.
Their cryptoassets are deposited into an account with Gemini, their primary custodian and a licensed depository trust. The majority of assets stored with Gemini are held in cold storage.
The BlockFi team has decades of experience in consumer lending and financial services. They are one of the few independent lenders with institutional backing from investors that include Galaxy Digital, Susquehanna, Akuna Capital, Fidelity, Recruit Strategic Partners, ConsenSys Ventures, SoFi, Coinbase Ventures, CMT Digital and Morgan Creek Digital.
Can I create my own referral link?
Yes, absolutely. When you login to BlockFi, the dashboard will display a "Refer a Friend" button at the top right corner of the page. When clicked, a pop-up will display your unique referral code that can be used to refer new users to BlockFi.
Any other DeFi bonuses?
Yes, we have long list of bonuses, including Crypto.com, Deribit, Bybit, FTX, Binance, Bitfinex, BitMEX and many more.